HAND RAIL SUPPORT FOR SPA ENTRY AND EXIT
Helps eliminate the hazard of slippery, wet surfaces around all spas.
The Safe-T-Rail helps all ages to enter and exit the spa safely, solid, dependable construction with non-slip foam coated handle.
FEATURES & SPECS:
Ultra sturdy construction 5-minute installation
Two composite mounting brackets
Slip-free, black foam grip
Mounts on most above-ground spas
Available in polished stainless steel and black powder-coated aluminium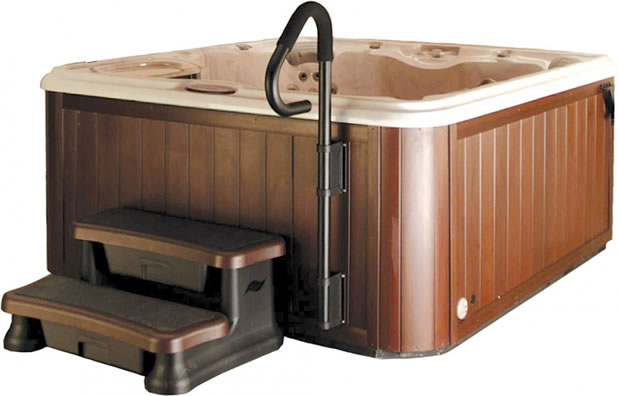 COMPACT HAND RAIL FOR ALL SPAS – INCLUDING DECK LEVEL
The SmartRail makes spa entry and exit safe. A rotating mounting bracket enables fitting to recessed deck level spas as well as freestanding units. Non-slip foam covered handle
FEATURES & SPECS:
Rust-free powder coated aluminium
Composite rotating bracket 10-minute installation
Anti-Slip, black foam grip
Mounts on most spa installations
THE SMART WAY TO HOLD TOWELS AT THE SPA SIDE
The TowelBar keeps towels conveniently handy, clean and dry at the spa side. Holds towels just the right distance from splashing water and conveniently folds down against the spa side when not in use.
FEATURES & SPECS:
Manufactured from robust aluminium tubing
Composite bracket
Fitted in just a few minutes
SPA SIDE SWING-AWAY TABLE
SpaCaddy is a sturdy, well designed spa table, perfect for holding food and drinks close at hand. Simply swing the table away when not required
FEATURES & SPECS:
Reinforced polymer resin tray mounted on an aluminium post
Composite mounting bracket
68cm long x 48cm wide
Quickly mounted on most spas
SPA SIDE TABLE WITH STORAGE DRAWER
The SmartBar is supplied with a drawer below the table top for convenient, secure storage. Featuring a slip-resistant pad to keep items from slipping, safely put drinks, books or phones within easy reach.
FEATURES & SPECS:
Supplied with a SmartDrawer
Slip-resistant surface
Installed quickly with two mounting brackets
100cm long x 350cm wide