Spa Cover Lifters in Portugal
A SUPERB, SIDE MOUNT, COVER LIFTER – STRONG AND EASY TO USE
The CoverMate 1 is Leisure Concept's biggest selling cover lifter. Its solid quality and attractive design complements any spa. The time-tested performance and durability of the CoverMate 1 make it an easy choice to lift and store your spa cover.
FEATURES & SPECS:
Requires just 35cm of clearance behind the spa
Manufactured from powder-coated aluminium tube with easy-to-install, composite mounting brackets
Complete with a TowelMate accessory for hanging up to three towels.
CoverMate II & II Understyle
A GREAT DESIGN COVER LIFTER THAT ALLOWS THE COVER TO SIT LOWER
The CoverMate 2 stores the open cover lower to give a less-obstructed view. A choice of mounting systems allows the CoverMate II to be bracket mounted on the spa panels, or with the optional Under-Style brackets that slide under the spa to avoid damage to the cabinet, this is the CoverMate 2 Understyle.
FEATURES & SPECS:
Requires just 45cm of clearance behind the spa
Powder-coated, aluminium tubing with non-corrosive mounting brackets
The Under-Style system uses aluminum brackets and 17cm base plates that simply slide under the spa
Comes standard with a TowelMate accessory for hanging up to three towels
THE PERFECT ANSWER WHEN CLEARANCE BEHIND THE SPA IS AN ISSUE
The CoverMate III is a hydraulically assisted cover lifter that offers great reliability and easy operation. Incorporates an exclusive "wind-lock" system – the only one of its kind – which protects the lifting struts.
An aluminium frame construction with composite mounting brackets, provides years of trouble-free service. The CoverMate 3 takes the strain out of lifting heavy spa covers.
FEATURES & SPECS:
Requires just 15cm of clearance behind the spa
Powder-coated, Aluminium tubing
Stylish composite mounting brackets
Ergonomic design, looks good and easy to use
Optional DeckMount bracket system available (sold separately).
AN IDEAL WAY TO STORE SMALLER SPA COVERS
The CoverCatch keeps your spa cover off the ground and easy to store. The arms can be installed, low on the spa for an unobstructed view, or higher for added privacy.
FEATURES & SPECS:
Requires just 25cm of clearance behind the spa
The Arms fold flat against spa when not in use
Works well on most smaller spas regardless of shape
Foam-rubber pads provide soft, slip-resistant surface for the cover to rest against
Each arm is 19cm deep
THE SOLUTION FOR ROUND AND UNIQUELY SHAPED SPAS
An exclusive, adjustable mounting base, slides underneath the spa, to give complete flexibility of mounting options.
FEATURES & SPECS:
Requires 50cm of clearance behind the spa
Designed for round and uniquely shaped spas
Adjustable mounting base simply slides under the spa
Fits virtually any spa up to 115cm tall and 215cm wide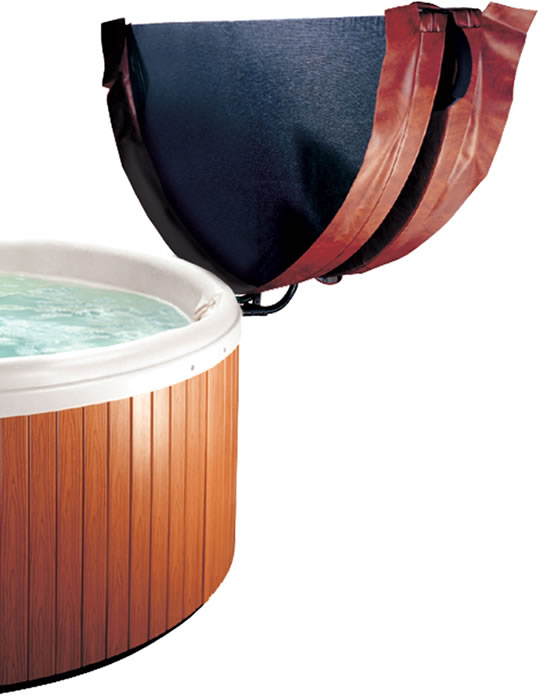 REMOVE THE COVER – NOT THE VIEW
The CoverShelf provides a simple and effective method to remove and store your cover.
Simply fold the cover back and slide it onto the sturdy Aluminium support arms, to rest securely without obstructing your view.
FEATURES & SPECS:
CoverShelf arms fold against spa when not in use
Non-corrosive composite mounting brackets
Works well on any spas
Installed in minutes